©
By Peter Schäfermeier of Universal Photo (Own work) [CC BY-SA 2.5 (http://creativecommons.org/licenses/by-sa/2.5)], via Wikimedia Commons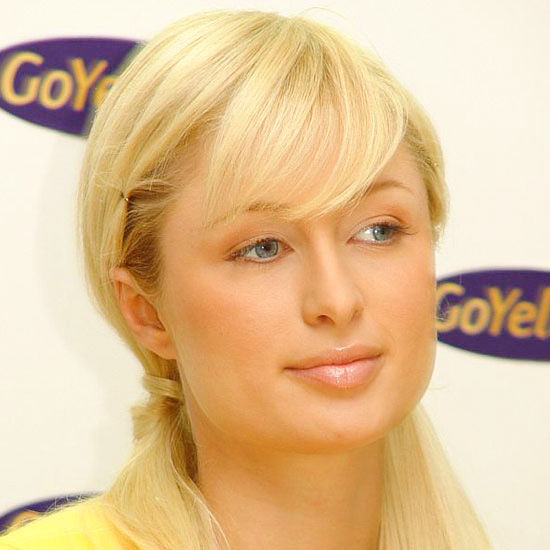 ---
Paris Hilton Gossip and News - Page 10
Village Idiot for 6 Jan 2007, Paris Hilton
Friends with Benefits?
Paris apparently wants to be best pals with Victoria Beckham telling a friend "I just know Victoria and I would get along. We could be soul mates." After hearing about Porn Star Paris' desire, Victoria "Posh Spice" Beckham commented "Over my dead body! We couldn't be more different. You won't catch me falling out of nightclubs with no knickers on." Good idea keeping your distance, you never know, she might just try mounting David.
Village Idiot for 6 Jan 2007, Paris Hilton
Lazy Porn
The laziest Porn Star in the business. Another "sex tape" featuring Porn Star Paris has been leaked onto the web and this time there's no sex. Instead the new tape shows pseudo celeb Paris in the bath getting all soapy, no doubt trying to disinfect her orifices. While conventional wisdom requires incineration of problem areas, I guess we'll have to congratulate her for trying.
Village Idiot for 9 Dec 2006, Paris Hilton
Puking Paris
Hit by a case of stage fright, pseudo celeb Paris reacted in much the same way as the rest of the world when it came time to play one of her songs, she hurled chunks. Apparently Paris was set to lip sync two of her songs after a Jay-Z performance but instead ended up vomiting on stage after spending the night drinking nothing but Vodka. Needless to say this was one of her best performance yet, second only to the scene in 'House of Wax' where she ends up with a pole through her head.
Village Idiot for 14 Oct 2006, Paris Hilton
Paris in Punch-up
The day we have all been waiting for has come and gone, pseudo celeb Paris came closer than ever before to a bitch slap. After infecting dating Travis Barker the ex- Mrs Barker, Shanna Moakler, gave Paris a piece of her mind, lovingly wrapped in the form of her fist meeting Miss Hilton's jaw. Useless as ever Paris did nothing to defend herself and instead opted to leave the club and file a report with the police. Normally I prefer my 'Jerry Springer' show contestants confined to a stage, but I'll make an exception just this once, nice one Shanna.
Village Idiot for 16 Sep 2006, Paris Hilton
Under Arrest
Pseudo celeb Paris arrested and charged with driving under the influence. Apparently those long hard days of making music video's and appearing at charity events really takes a toll on celeb's and in this case air head Hilton just happened to be the one driving her Mercedes McLaren SLR like a celeb in possession of a banned substance. Miss Hilton could face 3 months probation, ordered to enter an alcohol program and have her license restricted for 90 days.
Village Idiot for 19 Aug 2006, Paris Hilton
The Never Ending Itch
If you haven't heard by now, mankind has entered a new era; Porn Star Paris is well into her year long abstinence from sex. Paris told Regis and Kelly "I'm doing it just because I want to... One-night stands are not for me. I think it's gross when you just give it up... You have to make them work for it." That's right kids, don't give it up, publish it instead. Personally I admire celebrities doing their bit to help combat AIDS and other STD's.
Village Idiot for 24 Jun 2006, Paris Hilton
Paris Banging Agian
Paris could go to jail after hitting another vehicle in a parking lot and not leaving her details. Under California law this is a misdemeanor and Miss Hilton could go to jail for up to 6 months. In response to these allegations, Paris' publicist said that the lights from the photographers had made Paris "dizzy and confused". I think it's her genetic make-up and general lack of oxygen that made her "dizzy and confused", I present exhibit A: The Simple Life, I rest my case.
Village Idiot for 27 May 2006, Paris Hilton
Name of the Game
True to her airhead ways, Paris screwed over another business by forgetting the name of the game she was promoting. Perplexed Paris was supposed to introduce her new game 'Paris Hilton's Jewel Jam' but instead ruined everything saying "I'm really excited to have my new video game, 'Diamondquest'." Maybe if they had stuck with something she could remember they would be better off, something like... "Huh?" or "Herpes". I suggest backing up all data and updating your anti virus... just in case.
Village Idiot for 6 May 2006, Paris Hilton
A Star is Born
Realizing that no one was prepared to go through the embarrassment of singing her praises, Paris decided to do what she does best, blow... her own horn. Miss Hilton was interviewed by Elle magazine where she revealed how truly awe inspiring she is. Paris said "I've always had a great voice. You either have it or you don't. It's something you're born with. I'm a brand, a model, an artiste, an actress, a designer. I write books." I think she left out porn star. If you would like a list of everything Miss Hilton was born with then pick up a copy of "The New England Journal of Medicine".
Village Idiot for 4 Mar 2006, Paris Hilton
Bollywood Calling
If you thought America was the only country capable of crap like "Crossroads" you'll be pleased to know that the worlds largest movie industry, Bollywood in India, are hot on Hollywood's heels. An Indian film director, T. Rajeevnath, wants Paris Hilton to star as Nobel Peace laureate Mother Teresa because he was "impressed" when Paris refused to pose naked for Playboy. I think this guys been breathing in a little to deep around the curry powder. Lets hope he gets Internet access before they start shooting.