©
By Peter Schäfermeier of Universal Photo (Own work) [CC BY-SA 2.5 (http://creativecommons.org/licenses/by-sa/2.5)], via Wikimedia Commons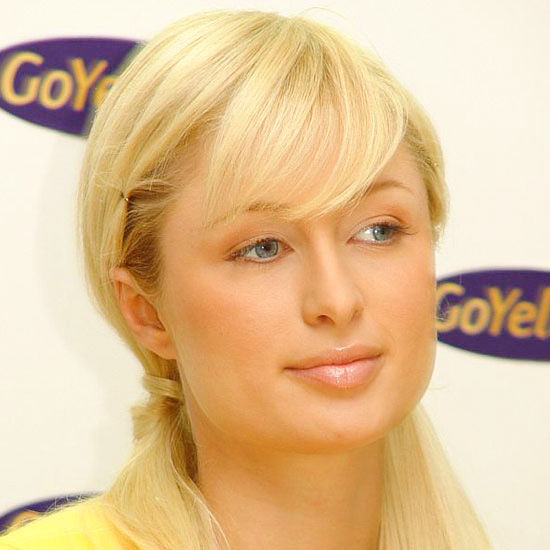 ---
Paris Hilton Gossip and News - Page 11
Village Idiot for 6 May 2006, Paris Hilton
A Star is Born
Realizing that no one was prepared to go through the embarrassment of singing her praises, Paris decided to do what she does best, blow... her own horn. Miss Hilton was interviewed by Elle magazine where she revealed how truly awe inspiring she is. Paris said "I've always had a great voice. You either have it or you don't. It's something you're born with. I'm a brand, a model, an artiste, an actress, a designer. I write books." I think she left out porn star. If you would like a list of everything Miss Hilton was born with then pick up a copy of "The New England Journal of Medicine".
Village Idiot for 4 Mar 2006, Paris Hilton
Bollywood Calling
If you thought America was the only country capable of crap like "Crossroads" you'll be pleased to know that the worlds largest movie industry, Bollywood in India, are hot on Hollywood's heels. An Indian film director, T. Rajeevnath, wants Paris Hilton to star as Nobel Peace laureate Mother Teresa because he was "impressed" when Paris refused to pose naked for Playboy. I think this guys been breathing in a little to deep around the curry powder. Lets hope he gets Internet access before they start shooting.
Village Idiot for 28 Jan 2006, Paris Hilton
Pee pee Paris
A taxi driver in Hawaii claims that pay-per-view Paris was so drunk that she didn't realize she had wet herself when he picked her and boyfriend Stavros Niarchos up after a party. The taxi driver claims he had to wipe up the mess with a towel which he was later offered $200.00 for by Paris' henchmen. After the loss of her integrity it comes as no surprise that Miss Hilton would eventually lose bladder control. You can't really blame her, she's probably going back to her porn star roots and preparing for a water sports video.
Village Idiot for 7 Jan 2006, Paris Hilton
The 'ol Zoo
After grabbing pole position as 'The Worlds worst dog owner' as voted for by readers of 'The New York Dog and Hollywood Dog magazines' and then 'Worst dressed Celebrity' by PETA for her love of fur, broadband Paris has now added more defenseless critter's to her collection in the form of two Chihuahua puppies. The latest casualties of pseudo celebrity Paris have been branded "Tokyo Blue" and "Harajuku Bitch". This brings her tally to 4 dogs, a ferret, a kinkajou monkey and a goat resulting in the only zoo able to outsmart their captor by a million odd brain cells to one.
Village Idiot for 7 Jan 2006, Paris Hilton
Awards Ceremonies
The only real reason to be at the 'Billboard Music Awards' was to be as far away from Paris as possible. Paris gave the awards a miss because she was afraid to upset new BFF Britney Spears with the "objectionable" script she was given. Since K-Fed's departure Paris has signed up to take the brunt of Britney's buffoonery and hopefully suck up some of the spotlight in the process.
Village Idiot for 26 Nov 2005, Paris Hilton
Making Babies
Not content with being the dumbest creature to walk the face of the earth, Paris has revealed that she intends on spreading her jeans and contributing to the gene pool. Apparently when asked by 'OK' magazine if kids are in her future, Paris said "A lot! I keep imagining that I'll have a boy first and then a girl. And then I don't know." I'm going to go with the last option, I'm sure her species entered the scene via the primordial soup. Damn you evolution, damn you!
Village Idiot for 22 Oct 2005, Paris Hilton
Paris' Plans Paused
News has it that the next season of "The Simple Life" simply does not exist. Apparently the show has been dropped by the Fox network after differences between Paris and Nicole Ritchie could not be sorted. Oh heavenly father, we thank thee for clearing our TV schedules of such utter crap... I'm sure that for the fans of the show it comes as a great shock, but I'm sure both of you will survive.
Village Idiot for 1 Oct 2005, Paris Hilton
Paris Pens Future Classic
Paris is planning on releasing a second book entitled "Your Heiress Diary: Confess It All To Me" Apparently the book will feature 150 photos of Paris along with messages telling the reader what to write about, as the book will only be half full, requiring the "reader" to fill in the rest. Those who can, write books, those who can't, leave the pages blank. I've got a feeling this will be her best work yet, a true reflection on her inner thoughts.
Village Idiot for 3 Sep 2005, Paris Hilton
Get Along Little Doggy
Paris has dumped her pet chihuahua, Tinkerbell, in favour of a new pup. Apparently Tinkerbell just isn't cute anymore and has now been sent to live with Paris' mother, Kathy. What a bitch, either one, you decide. Wasn't that the same reason Rick Salomon dumped her? One minute your traveling the world, sniffing other dog behinds, the next you're sending your pooch back to mom.
Village Idiot for 30 Jul 2005, Paris Hilton
Paris' Bloated Bladder/Ego
Paris had to make space for her ego to accompany her to the loo while at a London night club. Apparently Paris ordered her henchmen to clear the ladies loo's of "ordinary people" so she wouldn't be disturbed. She's never crossed her legs before, so why should she start now. Oh to be rich and unimportant, who says you need to be talented to behave like a diva?