©
By Peter Schäfermeier of Universal Photo (Own work) [CC BY-SA 2.5 (http://creativecommons.org/licenses/by-sa/2.5)], via Wikimedia Commons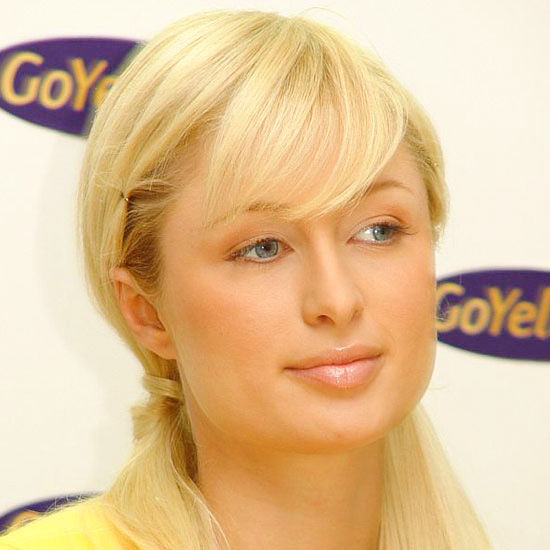 ---
Paris Hilton Gossip and News - Page 2
Village Idiot for 6 Jun 2015, Paris Hilton
Paris' Pregnancy Plans
In an interview Paris said she would name her first child London, regardless of gender. Paris said in the interview "I'm definitely going to dress mine up. [If it was a girl], they'd be in all pink and fluffy, little princess dresses, not like Toddlers and Tiaras style, a little bit more toned down," going on to say "I'm going to name her London, or him. Whoever is first is going to be named London." Or, if it's a boy she could always call him Big Ben because, well, imagination. She was going to name it after it's place of conception but Alley's are normally found behind Hilton's.
Village Idiot for 17 Jan 2015, Paris Hilton
Paris' Pampered Pooch
Paris wants to hire a full time nanny for her new micro-mini teacup Pomeranian. An insider said "She is thinking about getting the dog its own nanny. It's so small she needs someone to feed it as if it were a newborn baby." A nanny is the dogs only chance of survival, God knows what happened to her previous pet projects. I can imagine a giant pet cemetery in her backyard with tombstones reading "Too Old", "Not Cute Anymore", "Knows Too Much".
Village Idiot for 20 Dec 2014, Paris Hilton
Paris Got an Apology?
Porn Star Paris received an apology from Cameron Lacroix after he hacked into her cellphone account back in 2005. Cameron described the hack saying "I looked (Paris) up and sure enough it was under her name. I went into it and was shocked at what I saw." He was shocked at what he saw? A quick internet search would have prepared him for the horrors in the house of Hilton. When do we get an apology from her for all those years we had to put up with her shit?
Village Idiot for 16 Aug 2014, Paris Hilton
Paris Scratches her Bits for Money
Pseudo celeb Paris apparently earns $347k per hour as a DJ at Ibiza's club "Amnesia". Page Six reports that Porn Star Paris made "$2.7 million in the short span of four days on her two-month DJ tour" Well the club name explains it all, I'm pretty sure it would take a swift blow to the head for someone to pay her for pitching up and pressing play.
Village Idiot for 26 Jul 2014, Paris Hilton
Paris Hilton, Yip She's Still Around
In a recent interview with the UK's Telegraph Paris talked about her infamous sex tape. Paris said "It was just the most hurtful and awful thing that anyone could do to a little girl. I was very young, it wasn't my fault." She was 23 at the time the sex tape was made, not exactly a "little girl". As for her "fault", well she gladly accepted a paycheck for the sex tapes distribution.
Village Idiot for 22 Jun 2013, Paris Hilton
More "Musical" Mayhem
For some unknown reason, heir head Hilton has been signed up to lil Wayne's label 'Young Money Entertainment'. Lil Wayne tweeted at the time "Lil Wayne's Cash Money family has a new member! Paris Hilton: RichgangRichgirl." Porn star Paris tweeted back "Love Lil Wayne, he is so amazing! Can't wait for our new song! #I<3YMCMB" She went on to tell Showbiz411 "[the new album] is a lot different than my first album. It's really going to be house music." Well the good news is, we won't have to listen to her. The bad news is we're stuck listening to random scratching noises she makes, not on vinyl, rather her now inflamed lady bits. Another one for itchy venereal disease jokes.
Village Idiot for 8 Dec 2012, Paris Hilton
DJ Itch in da House
With a plethora of venereal diseases to practice her scratching skills, pseudo celeb Paris has decided to go big and scratch as a DJ releasing another collection of random sounds we'll all wish we never heard. I'm assuming her scratching as a DJ will still involve her nether regions, I don't hold out much hope for her having the faintest of actual DJing skills. Maybe her mixing skills could come in handy, mixing cocktails of course to drown her sorrows, once again no actual DJ skills.
Village Idiot for 24 Nov 2012, Paris Hilton
Make Room for the Ego
Pseudo celeb Paris has unleashed a storm of controversy tweeting a picture of herself along with "Loving my beautiful new store that just opened at Mecca Mall in Saudi Arabia!". This irked a few people with comments like "Saudi claim there are other ways to allow for pilgrims, and if religiosity is of such importance, why is Paris Hilton being allowed a store in Mecca?", referring to her porn past "How can someone who made such a video open a store in the holy city next to the Grand Mosque?" and "The world is a corrupt place at the moment. Someone please send me to Mars" Ignoring the comments heir-head Paris tweeted "So proud to keep growing my brand!" It doesn't matter how many stores she opens or how big her so called "brand"" is, at the end of the day we're all remembered for our actions and all she'll be remembered for is getting screwed on camera and spiralling out of control in a desperate attempt to become relevant.
Village Idiot for 13 Oct 2012, Paris Hilton
Paris Lockup
Paris' gets boyfriend locked up. After her homophobic remarks earlier, Paris managed to cause an altercation by making her boyfriend, River Viiperi, jealous by kissing another girl. Enraged at yet another reason to sterilize his genitals, Viiperi, hit the boyfriend of the girl pseudo celeb Paris was making out with resulting in the police being called in. On top of all that, Paris didn't hang around for the cops leaving soon after the altercation. Seeing that all gay people have AIDS, according to Paris at least, that must mean she finally has the whole STD collection. Sure some people might collect baseball cards or figurines, not Paris, nothing brings a tear to Paris' eye like an uncontrollable burning sensation.
Village Idiot for 22 Sep 2012, Paris Hilton
Racism's so Last Season
Racism's so last season, homophobia on the other hand! While in a cab in the early hours of the morning after New York Fashion Week, pseudo celeb Paris was recorded by the cab driver saying gay men are "gross" and have "AIDS". A friend she was with was describing how some gay men hooked up via a service like 'Grindr' to which Paris responded "They're disgusting. Dude, most of them probably have AIDS." From the authority of gross and more than likely infected. Sorry, my mistake, it must be Herpes, AIDS is the poor mans STD. I'm gonna throw in some Syphilis to explain the dementia as well.