Welcome to the Home of the Dumb Blonde
If it's dumb blondes and celebrities you're looking for then look no further. Blondesville is a protected sanctuary for all those... oh god, another one got it. If you find any stray blondes send them our way.
Village Idiot for 1 Aug 2020, Madonna
©
By David Shankbone (David Shankbone) [GFDL (http://www.gnu.org/copyleft/fdl.html) or CC-BY-SA-3.0 (http://creativecommons.org/licenses/by-sa/3.0/)], via Wikimedia Commons
Madonna Supports Coronavirus Conspiracies
With the Coronavirus still claiming lives Madonna decided to step into the fray and support a COVID-19 conspiracy theorist with an Instagram post that was labelled as "False Information" by the platform. The post started with "The truth will set us all Free! But some people dont want to hear the truth. Especially the people in power who stand to make money from this long drawn out search for a vaccine..." Well of course Madonna doesn't have to worry about the Coronavirus, she's one of the ancient ones who made a deal to live forever and torture the rest of us with her insane antics. Everybody else, wear a mask.
Monthly Moron for August
Which one of these Blondes is dumb enough not to wear a mask in public?
©
By Peter Schäfermeier of Universal Photo (Own work) [CC BY-SA 2.5 (http://creativecommons.org/licenses/by-sa/2.5)], via Wikimedia Commons
Paris Hilton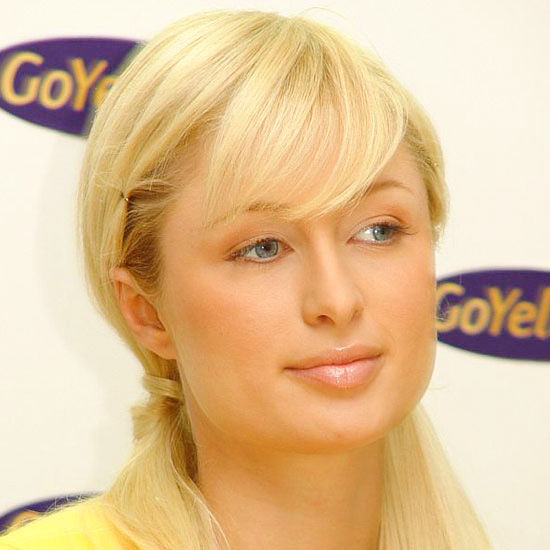 ©
By Mike Kaplan (DefenseImagery) [Public domain], via Wikimedia Commons
Jessica Simpson
Kid Rock
Blonde Tubes

Charlize Theron Does Charity Work
Charlize tells Conan all about her charity blind date.

This Foreign Blonde is a Vegetarian
This foreign blonde proves shes practically a vegetable herself.

Blonde Loves it Once it's In
Blonde TV presenter has to admit that once it's in she loves it...
More:
Blonde Tubes
Blonde Celebrity Quotes
"They said, 'No matter what you do in life, don't ever sing.'" (quoting her parents)
Reese Witherspoon
"Well, I paid for it, so I guess I get to keep it. It will go in the archive somewhere." (on her security ankle bracelet)
Martha Stewart
"Nicky and I are different in this crucial way, She's better at shopping than I am."
Paris Hilton
More:
Celebrity Quotes
Dumb Blonde Jokes
Albert Einstein was walking around heaven one day when he came across a large castle. When no one opened the door after he knocked, he opened the door to find a huge room full of all kinds of clocks. Intrigued by the timepieces, he approached the angel who was overseeing the operation. "What are all these clocks for?" he inquired. "They measure stupidity," answered the angel. "Stupidity?" Einstein was taken aback. The angel nodded. "Every time someone on Earth does something dumb, their clock moves ahead one second. Let me show you." The angel picked up a timepiece and handed it to Einstein. The second hand wasn't moving. "Is it broken?" Einstein inquired. "No," replied the angel. "That's a brunette's clock. She's Japanese as a matter of fact." "Of course," laughed Einstein. "Can you show me any clocks that are moving?" "That's easy," replied the angel. "This one belongs to a young blonde woman, from Sweden." He pointed at a large timepiece, ticking away at a dizzying speed. "Just as I thought," laughed Einstein again. "Well I see you have the clocks of brunette men and women, as well as redheads. But I don't see any clocks belonging to blonde men. Where are they?" "Blonde men?" the angel rolled his eyes. "They're in St Peter's bedroom. He's using them as ceiling fans."
( Submitted by 'Ben' )
A dumb blonde guy and a brunette girl are walking through the woods when the brunette says, "Oh look! Clever pills!" The dumb blonde guy immediately snatches up a pile of them and eats a mouthful. "Wait a minute," he says. "This tastes like rabbit shit." "See?" says the brunette. "You're getting smarter already!"
( Submitted by 'Ben' )
One day, brunette woman was involved in a serious car accident with another driver. Luckily, she and the other driver were unharmed. When she crawled out from the wreckage of her vehicle she noticed the other driver was a dumb blonde. "What a miracle we both survived," said the brunette. "I agree, we're very lucky," said the dumb blonde. The brunette reached into her car's trunk and found a bottle of strong whisky, which had also somehow survived the accident. "This is a sign we should celebrate," she said, handing the bottle to the dumb blonde. "Couldn't agree more!" said the dumb blonde, taking a big swig of whisky. The brunette grinned. "Aren't you going to have any?" asked the dumb blonde, still holding the bottle. The brunette responds, "No, I think I'll wait until after the police arrive."
( Submitted by 'Ben' )
More:
Dumb Blonde Jokes