Welcome to the Home of the Dumb Blonde
If it's dumb blondes and celebrities you're looking for then look no further. Blondesville is a protected sanctuary for all those... oh god, another one got it. If you find any stray blondes send them our way.
Village Idiot for 16 Jun 2018, Paris Hilton
©
By Peter Schäfermeier of Universal Photo (Own work) [CC BY-SA 2.5 (http://creativecommons.org/licenses/by-sa/2.5)], via Wikimedia Commons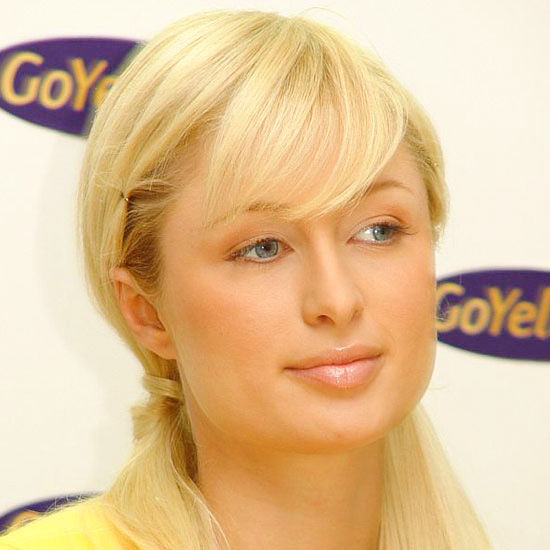 Paris Threatens to Return to TV
Porn star Paris has threatened to return to the small screen with another annoying reality TV show stint. Paris told E!News that before she gets married to her next victim she might return to TV saying "We've been getting a lot of calls and a lot of offers from different networks, pitching that show so maybe," Maybe stick to the "home movies" with your new victim and leave the rest of us in peace.
Monthly Moron for June
Which one of these blondes would have been the dumbest in math class?
©
By Senior Airman Felicia Juenke [Public domain], via Wikimedia Commons
Anna Kournikova
©
Georges Biard [CC BY-SA 3.0 (http://creativecommons.org/licenses/by-sa/3.0)], via Wikimedia Commons
Sharon Stone
Brad Pitt
Blonde Tubes

Dumb Blonde Explains Rocket Science
Judge Judy asks a dumb blonde to explain rocket science and the answer is what you expect.

Miss Teen USA South Carolina Knows Her Way Around
The Miss Teen USA contestant from South Carolina explains how important maps are.
Blonde Loves it Once it's In
Blonde TV presenter has to admit that once it's in she loves it...
More:
Blonde Tubes
Blonde Celebrity Quotes
"I like my body and face, and I love my breasts... my girls."
Scarlett Johansson
"I play it when I have my friends over, when we've had one too many and start rolling around the floor with each other." (On a song she wrote about oral sex that she vows NEVER to release)
Christina Aguilera
"I don't want to sit around and hope good things will happen. I want to make them happen... I want to be in control of my own destiny."
Drew Barrymore
More:
Celebrity Quotes
Dumb Blonde Jokes
One day, at a bus stop there was a dumb blonde bimbo who was wearing a skintight miniskirt. When the bus arrived and it was her turn to get on, she realized that her skirt was so tight she couldn't get her foot high enough to reach to step. Thinking it would give her enough slack to raise her leg, the dumb blonde reached back and unzipped her skirt a little. She still could not reach the step. Embarrassed, she reached back once again to unzip it a little more. Still, she couldn't reach the step. So, with her skirt zipper halfway down, she reached back and unzipped her skirt all the way. Thinking that she could get on the step now, she lifted up her leg only to realize that she still couldn't reach the step. So, seeing how embarrassed the dumb blonde was, the man standing behind her put his hands around her waist and lifted her up on to the first step of the bus. The dumb blonde girl turned around furiously and said, "How dare you touch my body that way, I don't even know you!" Shocked, the man says, "Well, blondie, after you reached around and unzipped my fly three times, I kinda figured that we were friends."
( Submitted by 'Cedric' )
A contestant on "Who Wants to be a Millionaire" had reached the final plateau. If she answered the next question correctly, she would win the million dollars. If she answered incorrectly, she would pocket only the $32,000 milestone money. And as she suspected it would be, the million-dollar question was no pushover. It was, "Which of the following species of birds does not build its own nest, but instead lays its eggs in the nests of other birds? Is it A) the condor; B) the buzzard; C) the cuckoo; or D) the vulture?" The woman was on the spot. She did not know the answer. And she was doubly on the spot because she had used up her 50/50 Lifeline and her Audience Poll Lifeline. All that remained was her Phone-a-Friend Lifeline, and the woman had hoped against hope that she would not have to use it. Mainly because the only friend that she knew would be home happened to be a blonde. But the contestant had no alternative. She called her friend and gave him the question and the four choices. The blonde responded unhesitatingly: "That's easy. The answer is 'C' -- the cuckoo." The contestant had to make a decision and make it fast. She considered employing a reverse strategy and giving Regis any answer except the one that her friend had given her. And considering that her friend was a blonde, that would seem to be the logical thing to do. On the other hand, the blonde had responded with such confidence, such certitude, that the contestant could not help but be persuaded. Time was up. "I need an answer," said Regis. Crossing her fingers, the contestant said, "C) the cuckoo." "Is that your final answer?" asked Regis. "Yes, that is my final answer," she said, breaking into a sweat. After the usual foot-dragging delay Regis said, "I regret to inform you that that answer is ... absolutely correct. You are now a millionaire!" Three days later, the contestant hosted a party for her family and friends, including the blonde who had helped her win the million dollars. "Andrew, I just do not know how to thank you," said the contestant. "Because of your knowing the answer to that final question, I am now a millionaire. I kind of owe you an apology too. I thought that, since you have blonde hair, you might not be the most intelligent lifeline option. But it was the assuredness with which you answered the question that convinced me to go with your choice. I guess I shouldn't have believed all those dumb blonde jokes." "No problem! People often think I'm dumb," the blonde said. "By the way," the winner said, not being able to contain the question anymore. "How did you happen to know the right answer?" "Oh, come on," said the blonde. "Everybody knows that cuckoos don't build nests. They live in clocks."
( Submitted by 'Ben' )
Q: Why is it wrong to say "dumb blonde"?
A: Redundancy.
( Submitted by 'Cedric' )
More:
Dumb Blonde Jokes