©
By Peta (http://www.peta.de/bilder/img/pam_veggie_pin72.jpg) [Public domain], via Wikimedia Commons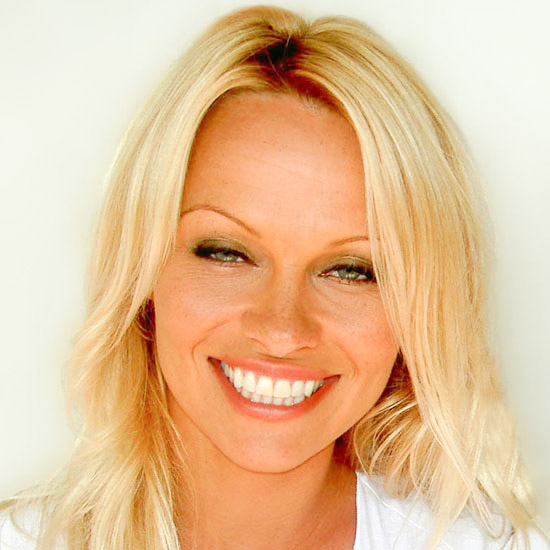 ---
Pamela Anderson Gossip and News
Village Idiot for 7 Apr 2018, Pamela Anderson
Pamela's Love Life is an International Affair
Pamela Anderson revealed in an interview with Piers Morgan that her former lovers include Julian Assange, Sylvester Stallone and even Vladimir Putin. Pam claimed to have kept in contact with Vladimir after petitioning him to ban seal hunting in 2009. Pamela also talked about Hugh Hefner and seven other girls at the Playboy mansion claiming "I was stood at the end of the bed watching them and then I realized they were watching me. I thought, 'This is not a movie. I need to leave.'" No wonder she's not working these days, she must be exhausted.
Village Idiot for 9 Dec 2017, Pamela Anderson
Pamela Blames Weinstein's Victims
Pamela Anderson put her foot in it when she blamed Harvey Weinstein's victims. Pamela said "You know what you're getting into if you're going into a hotel room alone. If someone answers the door in a bathrobe, leave." That's right ladies and when it comes to domestic abuse you don't marry them a second time because what kind of an idiot... oh wait.
Village Idiot for 29 Jul 2017, Pamela Anderson
Pamela Practices the Pull Out Method
Pamela Anderson has pulled out of a venture into the restaurant business and in the process her plan to lure the French President to dinner and give asylum to Julian Assange also fell apart. Pamela wrote "Due to circumstances out of my control, I have to remove my name from the collaboration with Christophe Leroy," she wrote. "This was a labor of love for the Animals - to showcase a sexy vegan experience in my favorite village." Time for Plan B, and also an alternative approach to saving Julian.
Village Idiot for 1 Jul 2017, Pamela Anderson
Pamela is Open for Business and Foreign Relations
Pamela is dipping her toes into the world of business and foreign politics by opening a vegan restaurant in France. In an elaborate ploy to get French President Emmanuel Macron to free her love Julian Assange, Pamela wrote "I am opening a new vegan restaurant in France in July, and I would like to extend my invitation to the new President and his First Lady." I'm not sure forcing him to eat vegan food is the best move. As a Frenchie offering to be a mistress is probably the way to go.
Village Idiot for 22 Apr 2017, Pamela Anderson
The Picture of Pamela Anderson
Pamela reportedly stormed off a TV show after an old school photo was shown. Pamela's negative reaction to her old school photo was on the show "Celebrity Juice" with host Keith Lemon saying "She just suddenly picked up her fur stole and stormed off home!" Maybe the photo was cursed and shows what she really looks like sans cosmetic surgery like Dorian Gray.
Village Idiot for 18 Mar 2017, Pamela Anderson
Pamela's Political Poetry
Pamela Anderson has taken her love for Julian Assange to the next level by writing a poem about him. The poem is long but opens with the following... "Julian Assange is the most intelligent, interesting, and informed man in existence. Yes- I think he's quite sexy. He has tremendous strength and stamina- though vulnerable." Right, so that just happened. I figure she wrote it in her diary and just had to share it with the world. Next step, sneaking out of the embassy window to elope. Shhh, don't tell the police.
Village Idiot for 25 Feb 2017, Pamela Anderson
Pamela Has a Thing for Bad Boys
It looks like Pamela Anderson has her next husband lined up in the form of Wikileaks founder Julian Assange. Apparently Pamela has been visiting Julian at the Ecuadorean Embassy in London where he's been holed up for the last 4 years with one observer saying "She seems to be wearing sexier outfits every time she visits". This sounds like some elaborate ploy by the Mounties to get their man. We need to send in our best spy, send in agent IQ 007.
Village Idiot for 10 Sep 2016, Pamela Anderson
Pamela Anderson Starred in a Porn... PSA
Former Playmate and sex tape star, Pamela Anderson, recently asked people to stop watching porn. Pamela referenced penis model Anthony Weiner in an op-ed in the WSJ saying "If anyone still had doubts about the addictive dangers of pornography, Anthony Weiner should have put paid to them with his repeated, self-sabotaging sexting" That's right people, watching porn is bad, starring in it on the other hand is a great way to become famous for no reason.
Village Idiot for 14 May 2016, Pamela Anderson
What Would You Pay for Photo's of Pamela Anderson?
Pamela Anderson recently auctioned off selfies for $500 each at the Champions of Jewish Values International Awards Gala. $500 for a selfie of Pamela Anderson? Pretty sure you could see a lot more of her with a quick Google search.
Village Idiot for 26 Dec 2015, Pamela Anderson
Pamela Anderson Brings About the End of an Era
It has been revealed that Pamela Anderson will be the last nude to appear on the pages of Playboy before it changes to a nude free magazine. Pamela has previously posed for Playboy 14 times and will have the honours in the final spread. Pamela said she received a call from Playboys attorneys who said "We don't want anybody else. There's nobody else, could you do the last cover of Playboy?" That's Hugh Hefner for you, always sentimental, horny, but sentimental.