©
By Paul Bird Uploaded by MyCanon (Scarlett Johansson) [CC BY 2.0 (http://creativecommons.org/licenses/by/2.0)], via Wikimedia Commons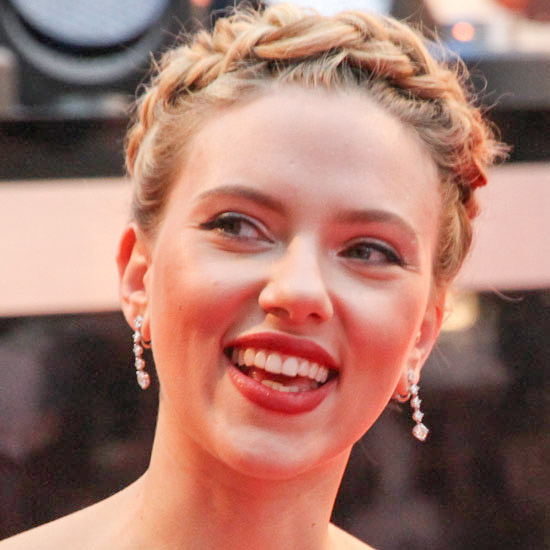 ---
Scarlett Johansson Gossip and News
Village Idiot for 6 May 2017, Scarlett Johansson
Scarlett Will Take You Down
Scarlett Johansson revealed she has started taking self defense lessons after an incident with a reporter. Scarlett said "I actually started recently taking self-defense classes because, actually, I was giving an interview and the interviewer asked me if I could beat him up in the interview" going on to say "So yeah, I made a promise to myself that I should not just look like I know how to kick ass but actually be able to" Future press junkets are gonna be way more entertaining. Holding journalists in a headlock "Ask a nice question or tap out bitch!"
Village Idiot for 11 Mar 2017, Scarlett Johansson
Scarlett's Divorce is Getting Dirty
Scarlett is now in a custody battle after announcing that she has filed for divorce from Romain Dauriac. Scarlett has asked for primary custody of their 3-year-old daughter Rose but Romain plans on fighting it in court. It's a tale as old as time, it was love at first sight of the bank account. With Scarlett being Hollywood box office gold you can only imagine the amount of money he can squeeze out of her until Rose turns 18.
Village Idiot for 18 Feb 2017, Scarlett Johansson
You Can't Tie Scarlett Down
Scarlett thinks monogamy is unnatural. In a recent interview with Playboy Miss Johansson said "I don't think it's natural to be a monogamous person." going on to say "it is such work for so many people - for everyone - the fact of that proves that it is not a natural thing." Ya, it's hard, so fuck it. You don't see animals struggling to survive in nature, that would be unnatural. Anyways, marriage over, off to the orgy.
Village Idiot for 20 Aug 2016, Scarlett Johansson
Scarlett is Hollywood Box Office Gold
Box Office Mojo has revealed that Miss Johansson is the highest grossing actress of all time. Scarlett's movies have brought in a whopping $3.3 billion dollars in domestic box office revenue. Scarlett was tenth on the list of ten and was not only the youngest and only female on the list but also the only Blonde.
Village Idiot for 6 Dec 2014, Scarlett Johansson
Scarlett's Secret Nuptial's
Scarlett Johansson and her baby daddy, Romain Dauriac, tied the knot a month after giving birth to their daughter Rose and kept the whole thing under wraps. The couple had the wedding in a secret location somewhere in the US to avoid any publicity. Wait a minute, a celebrity avoiding publicity? You mean there are people that value their privacy? All those years of cleavage distraction and then you pull the trigger. Well played Agent Romanoff, you win this round.
Village Idiot for 31 May 2014, Scarlett Johansson
Whatever You Do, Don't Call ScarJo, ScarJo
Miss Johansson revealed she's not too fond of celebrity nicknames especially her own - ScarJo. ScarJo told Glamour magazine "I associate that name with, like, pop stars. It sounds tacky. It's lazy and flippant... There's something insulting about it," A rose by any other name would still complain about the tackiness. Why can't people treat her like she treats other? You there, servant, come here.
Village Idiot for 1 Feb 2014, Scarlett Johansson
Too hot for Fox... and Oxfam
After having her TV commercial banned from Fox for saying "Sorry, Coke and Pepsi", ScarJo has now ended her role as ambassador for Oxfam over the very same ad. Mediaite reports "SodaStream has a large factory presence in the West Bank, while Oxfam boycotts trade from Israeli settlements." Oxfam stated "Scarlett Johansson has respectfully decided to end her ambassador role with Oxfam after eight years," Considering the advert (see below) I would have thought the overly sexual advances on a straw would have been the topic of discussion but no, capitalism gets all the attention.
Village Idiot for 23 Nov 2013, Scarlett Johansson
Scarlett's XXX Fever
In an interview with Marie Claire for her latest movie "Don Jon" Miss Johansson admitted that she was cool with pornography. Scarlett said "I think porn, like anything else, can be enjoyed. It can be productive for both men and women." Later she did admit, when questioned about the amount of porn watched by her character's boyfriend, "If I found out my boyfriend watched that much porn I would be totally flabbergasted, for sure" So quality, not quantity is what she's saying, right? She's more of a porn connoisseur, not the bulk buying kinda girl.
Village Idiot for 7 Sep 2013, Scarlett Johansson
Round Two, Lost in Translatio
Reps have confirmed that Miss Johansson, previously married to Ryan Reynolds for 3 years, is now engaged to French journalist Romain Dauriac. After Scarlett was spotted at the Venice Film Festival wearing an engagement ring her representative has stated "I can confirm that Scarlett and Romain are engaged," Romain and Agent Romanoff, I see what she did there.
Village Idiot for 14 Jul 2012, Scarlett Johansson
Temporary Idiot Status
Please note this Village Idiot status will stay in place until Miss Johansson sign's up for the sequel to 'The Avengers' netting her a cool $20 million. After the success of 'The Avengers' grossing $1 billion, Movie bosses are keep for Scarlett to reprise her role in the sequel. A source said "Producers think that as the only lead woman in the film male fans have found her a key ingredient - both for sex and story appeal." Yes, story appeal, where would the story have gone without her? You've got to strike while the girls are still perky.