©
By Peta (http://www.peta.de/bilder/img/pam_veggie_pin72.jpg) [Public domain], via Wikimedia Commons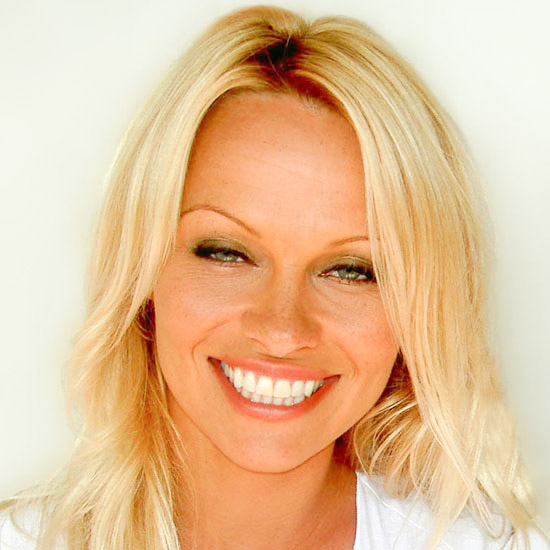 ---
Pamela Anderson Gossip and News - Page 2
Village Idiot for 5 Dec 2015, Pamela Anderson
No More Marriages
Pamela Anderson has sworn off marriage claiming "I'm not doing it anymore". After four previous marriages Pamela told Entertainment Tonight "I've just done so much it's not even on my radar. I'm not even going to date until after Christmas." In her defense it is a busy time of year for her... On the last day of Christmas her true love gave to her, 4 failed marriages, 3 ex husbands, 2 male children and 1 case of Hepatitis C.
Village Idiot for 29 Aug 2015, Pamela Anderson
Pamela Goes All Natural
Pamela Anderson claims she isn't a fan of Botox any more after experimenting with it in the past. Pamela said "I am the last person to try Botox but I did. I felt like my eyes sunk into my head so far that I didn't look like me anymore! I'm not into all that stuff." This coming from the women with the famously augmented chest? Maybe it wasn't her eyes sinking into her head so much as it was her breasts expanding into the horizon.
Village Idiot for 11 Jul 2015, Pamela Anderson
Putin Her Best Foot Forward
Pamela Anderson asked Russian President Vladimir Putin to help put a stop to the killing of endangered whales by "forbidding this vessel from carrying a cargo of endangered fin whale meat". Pamela said in an open letter to Putin "Your decision could put an end to the needless slaughter of endangered whales by Iceland." When it comes to saving endangered species there's nothing two topless powerhouses can't accomplish.
Village Idiot for 2 May 2015, Pamela Anderson
Pamela's Divorce Finalized
After a nasty and public divorce battle Pamela Anderson and Rick Salomon are now officially divorced, again. The ex-couple released a statement saying "Public divorces can be harsh and cruel - we apologize to our families and friends for any hurt and embarrassment we have caused - we have come to an amicable agreement and are moving on," Carrying on they said "There are private and personal family sensitivities to consider and we retract any hurtful comments made in haste and distaste. We wish each other and our families well." That settles it, they retract any "hurtful comments" made in haste and distaste from baby killing to spousal abuse.
Village Idiot for 7 Mar 2015, Pamela Anderson
Pamela's Love Conundrum
Pamela Anderson has filed for divorce, citing irreconcilable differences, from former/current husband Rick Solomon after getting remarried just last year. The request was met by Rick's lawyers filing papers to have the marriage annulled instead citing fraud in order to deny Pamela spousal support. So that will be 2 divorces and 2 annulments, I wonder if Kid Rock and Tommy Lee are waiting in the wings for their turn to repeat history? Better charge that flux capacitor.
Village Idiot for 30 Aug 2014, Pamela Anderson
Hitting Rewind on Love
Pamela Anderson has decided not to divorce hubby Rick Salomon for the first time from their second marriage, the first one being annulled after only 2 months. Pamela filed papers asking that the submitted divorce petition be thrown out of court. She married him twice so she'll need twice the media attention to make it all worth while.
Village Idiot for 12 Jul 2014, Pamela Anderson
3 Divorces, 1 Annulment and 3 Husbands = Blonde Math
After remarrying Rick Salomon for the second time Pamela has called it quits. The couple married on 9 January 2014 and are divorcing now 6 months later breaking their previous annulled marriage record of 72 days, congrats guys. Well at least the second time they broke the triple digits in days married, basically doubling their previous marriage best and getting more bang for their buck.
Village Idiot for 18 Jan 2014, Pamela Anderson
Here we go Again
Pamela Anderson has remarried previous husband, Rick Salomon, whom she previously but divorced after only 72 days of wedded... bliss? This is her fourth marriage but third husband. Previous husbands being Tommy Lee (3 years) and Kid Rock (115 days). That must have been a pretty memorable 72 days for them to quit and then try again... 6 years later. I suppose when it comes to marriage's you really want to make sure you hit triple digit's before deciding if it will work or not.
Village Idiot for 18 Aug 2012, Pamela Anderson
Second times not as much Fun
Second times not as much fun for Pam, much like her marriages. Miss Anderson has signed up to appear in the all-star edition of 'Dancing With The Stars' and plans to win with self-imposed celibacy. Pam told People.com "I've sworn off men until November... (And I will) rehearse a lot more and try to stay out of trouble because I'm a self-sabotager" About her lack of votes previously Pam said "Last time I didn't ask a lot of people to vote for me... (My sons) are technically savvy and I'm not." I wouldn't worry about the lack of sex, she spends half her performance on her knee's anyway.
Village Idiot for 19 Nov 2011, Pamela Anderson
HoHoHoly mama!
Christmas will be coming early to those in Canada in the form of Pamela Anderson as mother Mary holding the baby Jesus in the Russell Peters Christmas special. Pam will be appearing along side Russell Peters, Jon Lovitz and other Saturday Night Live alumnus in a Christmas TV special for The Comedy Network. What next, the three Stooges as the three wise men? You're gonna have some really confused teens getting a bonner every time they hear Christmas Carol's.