©
By Peta (http://www.peta.de/bilder/img/pam_veggie_pin72.jpg) [Public domain], via Wikimedia Commons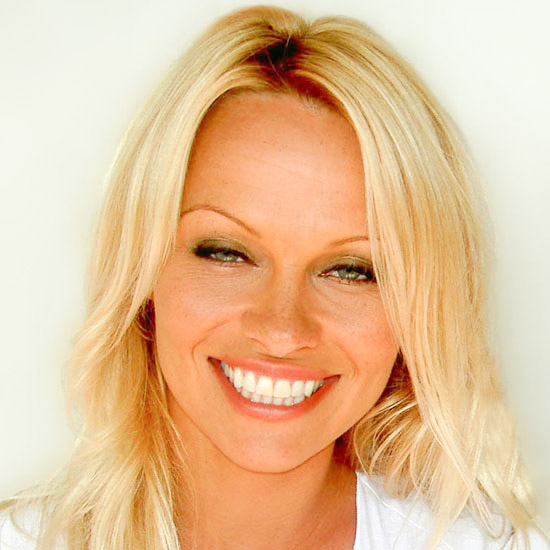 ---
Pamela Anderson Gossip and News - Page 5
Village Idiot for 6 Jan 2007, Pamela Anderson
Another Sex Tape?
Pamela cast in new sex flick, basically. Baywatch babe Pamela and Rick Salomon, Paris Hilton's victim from her infamous sex tape, received a marriage license on Saturday. I'm not sure if Rick's night vision approach will take on the mastery of Tommy's yacht based work but I'm sure we'll end up with something... entertaining.
Village Idiot for 6 Jan 2007, Pamela Anderson
It's Over
Baywatch babe, Pamela Anderson, is divorcing husband number 3 after just 72 days of marriage. Pamela and Rick Saloman had known each other for 15 years but "fell in love" after Pamela slept with Rick to pay off a gambling debt, how romantic. Pamela's previous marriages include 3 year's with Tommy Lee and 115 days with Kid Rock.
Village Idiot for 5 Aug 2006, Pamela Anderson
Pammy has her World Rocked
Yes the second installment of Pamela's marital exploits may soon be making it's way to your screen with the marriage of Pamela and Kid Rock. Whether it was the lack of imagination or poor budgeting, Pamela wed Kid Rock on the beach in St. Tropez wearing a white bikini reminiscent of her previous Rock Star encounter with Tommy Lee. The newly weds have spent their first few days as Rock Star and Roadie on a yacht cruising the French coast, no doubt with extra film packed.
Village Idiot for 15 Jul 2006, Pamela Anderson
Busting out of Her Seams
Pamela would do just about anything for her favourite charities, including getting naked. Pamela supposedly participated in the buff at a protest against fur in Stella McCartney's London boutique behind a banner which read "We'd rather bare skin than wear skin." That's what we need, more naked protesters, but only if they're well versed in slow motion Baywatch bouncy scene's. Next time they should kill two (non-endangered) birds with one stone and save the rain forest by using their bodies as billboards.
Village Idiot for 8 Apr 2006, Pamela Anderson
Who's your daddy?
It looks like Pamela wants another baby, and it might be yours! Apparently Pamela said she would like to have more children, but has opted for an anonymous sperm donor next time round. Pamela told Heat magazine "I don't know, maybe I have to find a good sperm donor. Sometimes I think I'd like to have another baby." I suppose a sperm donor would be safer than a few rounds with Tommy. This will be the first time sperm donor's get to produce a specimen while viewing actual picture's/movies of the future recipient, all those years practicing finally paying off.
Village Idiot for 7 Jan 2006, Pamela Anderson
Calling it Quits
The marriage that started on a beach/boat and even different continents is coming to an end following the same path as most celebrity divorces, "irreconcilable differences". November must be divorce month, so far we've had Reese, Britney and now Pamela all calling it quits. I wonder whose sex tape will take top spot, Pam and Kid or Brit and K-Fed?
Village Idiot for 14 May 2005, Pamela Anderson
Bountiful Beauties Clash
Animal lover Pamela has called J-Lo an idiot for wearing fur. Pamela said "Every season furriers put propaganda everywhere. And they give free coats to idiots like Jennifer Lopez and Puff Daddy... People who wear fur smell like a dog in the rain. And they look fat and gross." Wet dog? I thought that was J-Lo's new fragrance, introducing "Moist Mutt" by J-Lo. It's nice to see Pamela really takes her dislike of 'fur' seriously, I hardly saw any in the Pam and Tommy video.
Village Idiot for 12 Feb 2005, Pamela Anderson
Pamela's Bosom Buddies Return
Pamela is going to have her breast's boosted beyond original size after having her original implants removed nearly eight years ago. Pamela said "I hated being without them. It was like, 'Where are my pals?' "But I could see my feet for the first time in years." We miss them too Pamela, we miss them too. I wonder what size she's going for this time? Playboy might need to add an extra page to their centerfold. Anyway, feet are over rated, breasts on the other hand, now your talking. "Mammaries, mammaries of the times we use to have..."
Village Idiot for 13 Mar 2004, Pamela Anderson
Retirement
Pamela has denied staring in a new action movie as she is retiring from acting. Apparently Pamela is retiring from acting and showbiz to focus on a career in fashion. I'm sure we've had this discussion before, the movie with Tommy wasn't exactly 'acting' and as far as her TV shows go, certain assets took up more screen time than others. Talking about assets, I wonder if you'll be able to buy her clothes off the 'rack'.
Village Idiot for 27 Dec 2003, Pamela Anderson
Food Fight
Pamela and Tommy Lee got into another fight, a food fight. The two decided to pelt each other with tomatoes at a Malibu grocery store parking lot because of an argument about Pamela going to the 'American Music Awards' with Kid Rock. I suppose throwing tomatoes is better than throwing a left hook. It must have been quite a food fight, her melons, his banana and all those tomatoes flying around.