©
By Peter Schäfermeier of Universal Photo (Own work) [CC BY-SA 2.5 (http://creativecommons.org/licenses/by-sa/2.5)], via Wikimedia Commons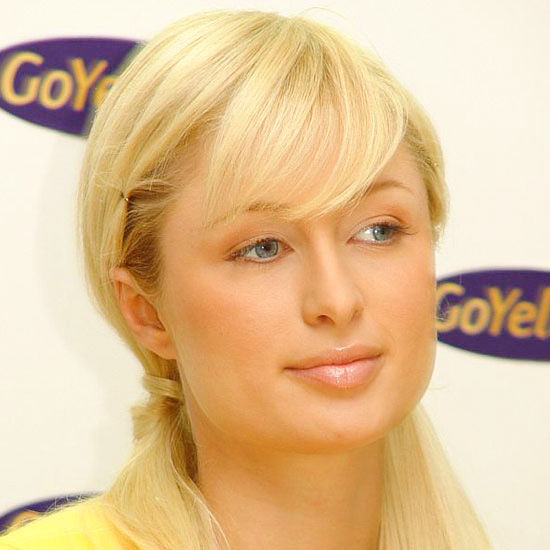 ---
Paris Hilton Gossip and News - Page 12
Village Idiot for 25 Jun 2005, Paris Hilton
Love is in the Heir
Paris is engaged to Greek shipping heir Paris Latsis after 8 months of dating. Apparently Paris, the pornstar one, is eager to start a family and says she wants to name her kids London and Paris, regardless of gender. I see London, I see France, I see someone's underpants... but the rest of the movie wasn't that great. Finally a couple to match wits against Britney and Kevin, the only question is, which couple will produce the dumbest offspring?
Village Idiot for 4 Jun 2005, Paris Hilton
Big Words
Pamela Anderson told GQ magazine that Paris doesn't like to read. Pamela said "She's funny. Last time I met her we were in a restaurant together, she slammed the menu down and screamed 'I hate reading! Someone tell me what's on the menu!' I mean, I'm blonde but c'mon." You can't really blame her, deciding on your only meal for the week can be stressful. Introducing the latest diet craze from Paris, "Illiteracy", just ignore the menu and watch the pounds peel away.
Village Idiot for 7 May 2005, Paris Hilton
Paris' Press Release
Paris released a statement confirming that she is no longer friends with Nicole Richie. Due to this release Fox are considering replacing Nicole with Kimberly Stewart for the next 'The Simple Life' show. Well as long as it's news worthy, because we're all dying to know what happens to Miss Hilton, aren't we? At least they stayed with the music related family by swapping Lionel Richie's daughter for Rod Stewart's daughter.
Village Idiot for 26 Feb 2005, Paris Hilton
Royal Let Down
Prince Harry turned down Paris' invitation to her 24 birthday party. Apparently Paris offered to fly Harry and 2 friends in her fathers private jet and let him stay at the Miami Hilton Hotel. A royal source said "There's no way his father was going to let him attend, given Paris' raunchy reputation." I think he should have gone, you know what they say, everyone should spend at least one night in Paris. And with him going to the army soon, that night vision camera training could come in handy.
Village Idiot for 29 Jan 2005, Paris Hilton
First Hilton Not to Accept Plastic
Apparently Paris, flat as the Sahara desert, thinks breast implants are "gross". Paris said "When I was younger, like 16, I wanted them so bad... When I turned 18, I was like, 'I'm not getting them. They look deformed.' All my friends that have them, they look so gross. I'd rather not have any and not have to wear a bra." She must be the first porn star I've ever heard complain about breast implants. For your sake Paris, you're better off getting implants now before daddy's money disappears, that way guy's will still talk to you.
Village Idiot for 8 Jan 2005, Paris Hilton
Paris' Big Mistake
Paris told Rolling Stone magazine that dating 'Backstreet Boy', Nick Carter, was her biggest mistake of '04. Paris said "I don't know what I was thinking. I met him, and I didn't really like him... I was like 'I'm not going out with a Backstreet Boy.' Then I ended up thinking he was, like, nice, and I ended up liking him... but he ended up being an asshole." Of all the things she's done, the worst thing she can think of was dating a 'Backstreet Boy'? I wonder where her sex tape ranks on her list of big mistakes. All this talk of 'Backstreet Boys' and assholes sounds familiar, didn't she have his name tattooed on her butt?
Village Idiot for 23 Oct 2004, Paris Hilton
Paris' Pop Dreams Burst
Paris' attempt at becoming a Pop Star failed when she was booed off stage by party goers in Miami. Apparently people were disgusted by her song "Screwed" which some said was lip-synced. Oh no, what ever will she do now? Probably the same thing she's done all her adult life... nothing! I must admit I've never seen her lip-sync before, then again it looked like her lips where busy during most of the movie.
Village Idiot for 7 Aug 2004, Paris Hilton
Paris is Looking for her Next Leading Man
Paris has broken up with, Backstreet Boy, Nick Carter only weeks after having his name tattooed on her butt. "She wanted the tattoo to be somewhere intimate and for Nick's eyes only." For Nick's eyes only, or until the next video is released. If you thought it was difficult explaining her internet pay-per-view porn career, imagine how difficult it's going to be explaining the tattoo "Yes, I have a Backstreet Boy on my... backstreet." Maybe she can have the tattoo changed to something else. Let's see, what rhymes with Nick?
Village Idiot for 1 May 2004, Paris Hilton
Paris is Too Fat
Movie producers have told Paris to stay away from junk food while filming for 'House of wax'. Producers have gone as far as packing her fridge with healthier alternatives to which Paris responded "I'm an actress. How can you expect me to know how to use an oven?" Wait a minute, since when was she considered an actress? I thought she was a party animal, socialite with a fondness for drink. Anyway, I doubt her previous "movie" qualifies her as an actress.
Village Idiot for 17 Apr 2004, Paris Hilton
Speed Demon
Paris admits to driving fast and rarely gets speeding tickets, unless she's pulled over by a female cop. Paris says "I always get out of it. The cop always ends up giving me his business card and saying, 'Let's go to dinner tonight.' But I never call them. I got a few tickets from girl cops though." I'm surprised she passed the driving test, from what I've hear she nearly always heads for the back seat. Anyway, I don't see the harm in her speeding, if anything goes wrong she can act as her own airbag.