©
By Peter Schäfermeier of Universal Photo (Own work) [CC BY-SA 2.5 (http://creativecommons.org/licenses/by-sa/2.5)], via Wikimedia Commons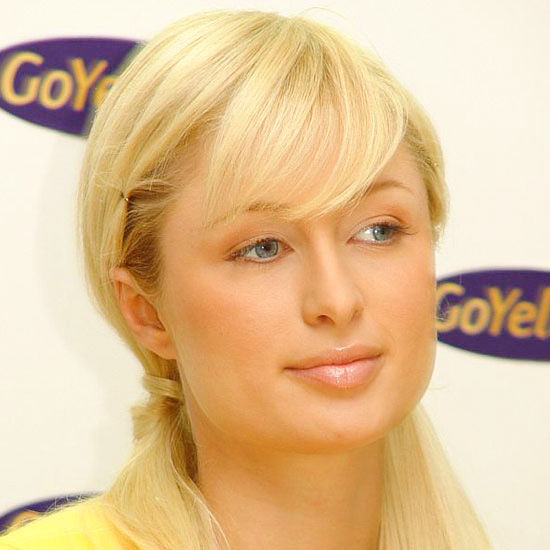 ---
Paris Hilton Gossip and News - Page 6
Village Idiot for 31 Oct 2009, Paris Hilton
Paris ditches Doug
Pseudo celeb Paris headed straight for the exist on the weekend while at boyfriend Doug Reinhardt's birthday party in nightclub Wasted Space. Paris caught site of previous bedroom captive, Benji Madden, who was performing and immediately made a getaway leaving Doug to enjoy the night Parisite free. A source said "She was freaking out big time and was desperate not to bump into him. It's quite clear they didn't end on good terms." Normally Paris' gift's last a long and itchy lifetime but I think her absence will go down as welcome relief, much like the ointment prescribed after every Paris Hilton encounter.
Village Idiot for 3 Oct 2009, Paris Hilton
Party Paris Pooped
It looks like the long night's on the streets of Hollywood have taken their toll on pay-per-view Paris. Heir head Paris tweeted before her night out began "Getting ready to go to dinner and then out. Haven't been out to LA clubs in so long. Should be fun." This was followed by a tweet later "On my way home. LA is not what it used to be. Brutal. Can't wait to get in bed." She must be getting old, in the good 'ol days Paris could spend hours "working" the streets of LA in a desperate bid to be famous. It looks like there won't be any more pavement pounding, however, regular pounding is still available on request.
Village Idiot for 29 Aug 2009, Paris Hilton
You're so Vein
You probably think this post is about you... While in Vancouver celebutard Paris arranged for her "team" to decorate on/off again STD victim, Doug Reinhardt's, house with life sized pictures of herself - and by "decorate" I mean lower the value of the property considerably. The only good place to hang a picture of porn star Paris is over a fireplace to scare the kids away. Do you want to look like this boys and girls? No? Then stay away from fire.
Village Idiot for 1 Aug 2009, Paris Hilton
What's in a Name?
Pseudo celeb Paris jumped on the Michael Jackson publicity bandwagon claiming that Michael named his daughter after porn star Paris herself. Paris said "My mom and Michael went to high school together and they were best friends since they were 13. So I grew up knowing Michael very well and when he had his daughter, he always loved the name Paris and grew up being an uncle to me. So he asked my mom if it was okay and of course she said yes and I think she's such a beautiful little girl and I'm proud we have the same name." I never knew Michael had a kid called Syphilis?
Village Idiot for 20 Jun 2009, Paris Hilton
Piggy bank Paris
It looks like pseudo celeb Paris' recent split from Doug Reinhardt may be money related - I wouldn't believe it either if I didn't type it myself. Apparently porn star Paris' accountants found a number of expenses on her credit card charged by Doug without her permission. Added to that was Doug overheard bragging that Paris was his "meal ticket for life" and even referring to his romantic "skills". Wow, syphilis really does kick in fast, he's even more demented than I first thought. You can't blame the poor guy, if your pecker was about to fall off you'd find the best doctors money can buy too.
Village Idiot for 23 May 2009, Paris Hilton
Pimping ain't What it Used to Be
While frightening the French in Cannes with her hairless wonder, pseudo celeb Paris failed to meet even sleazy French club standards and missed out on her usual appearance fee of $100,000.00. A club promoter said "No one bit. They aren't about to pay her. It's not 2002. We think she got some money from the club VIP, but everyone else is running for the hills." For $100K I'm sure they can find better ways of contracting an STD. What's that you say? free crotch scratchers and ointment with every Paris Hilton encounter - you've got my attention.
Village Idiot for 7 Mar 2009, Paris Hilton
Paris' Puzzling Plans
Pseudo celeb Paris has asked the guys at Bentley in Crewe if they could give her new Bentley a "little more sparkle" and stick $280,000.00 worth of diamonds in her new pink Bentley's dashboard. Just what you need in an accident, one of earth's hardest elements positioned to meet your face. Maybe she's planning on becoming a Bond Villain with a diamond encrusted face? We should give her a cool Bond name like... Pussy Gory.
Village Idiot for 14 Feb 2009, Paris Hilton
Paris Proposition's Sir Paul
Pay-per-view Paris had the audacity to try corrupt one of music's legends begging to perform a duet with Sir Paul McCartney after she threw herself at him at a Grammy post show party. Paris told Paul "I'd love to do a duet with you. I'm a singer too and have had an album out." Singer?! Paris?! Where the hell was the security at this place, don't they know the mere presence of Paris can induce swelling, itchiness and decreased life expectancy? If we never hear another Paul McCartney song again we'll have scientific proof that talentless-ness is contagious.
Village Idiot for 10 Jan 2009, Paris Hilton
Paris sucks... at Maths
Paris told Glamour magazine "I've only ever done it with a couple of people... mostly I just kiss. I think it's important to play hard to get. Nobody wants the fake Prada bag - they want the brand new bag that no one can get and is the most expensive." Comparing her vagina to an old leather bag stuffed with cash pretty much sums up Paris as we know her. I wonder what Paris' definition of "a couple" of men is, maybe she meant all at once? I suppose in her world a real man doesn't cry after her vagina rips his genitals off after intercourse - all the rest are wimp's.
Village Idiot for 3 Jan 2009, Paris Hilton
Fight, Fight, Fight!
A fight broke out after an unknown man grabbed Porn Star Paris' boob while at a club in Hollywood. Paris' current STD victim, Doug Reinhardt, pushed the man away only to have the the unknown man's friend throw a bottle at Doug's head starting a fight resulting in club security being called in. What was that guy thinking, doesn't he know you need to negotiate with the Pimp before you go putting your hands on the merchandise?