Village Idiot for 22 Apr 2017, Pamela Anderson
©
By Peta (http://www.peta.de/bilder/img/pam_veggie_pin72.jpg) [Public domain], via Wikimedia Commons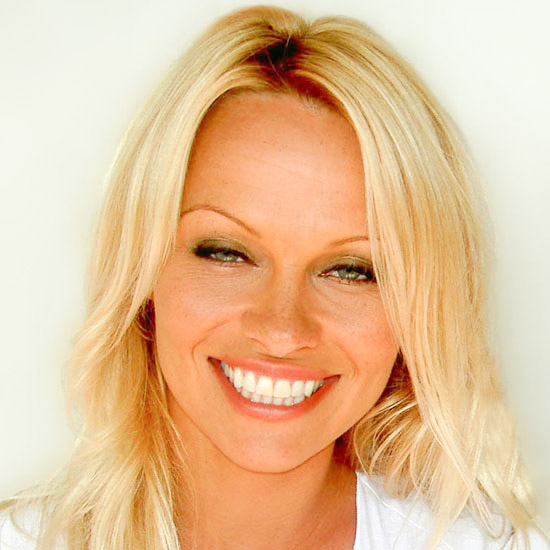 The Picture of Pamela Anderson
Pamela reportedly stormed off a TV show after an old school photo was shown. Pamela's negative reaction to her old school photo was on the show "Celebrity Juice" with host Keith Lemon saying "She just suddenly picked up her fur stole and stormed off home!" Maybe the photo was cursed and shows what she really looks like sans cosmetic surgery like Dorian Gray.
More Pamela Anderson News
Village Idiot for 7 Apr 2018, Pamela Anderson
Pamela's Love Life is an International Affair
Pamela Anderson revealed in an interview with Piers Morgan that her former lovers include Julian Assange, Sylvester Stallone and even Vladimir Putin. Pam claimed to have kept in contact with Vladimir after petitioning him to ban seal hunting in 2009. Pamela also talked about Hugh Hefner and seven other girls at the Playboy mansion claiming "I was stood at the end of the bed watching them and then I realized they were watching me. I thought, 'This is not a movie. I need to leave.'" No wonder she's not working these days, she must be exhausted.
Village Idiot for 9 Dec 2017, Pamela Anderson
Pamela Blames Weinstein's Victims
Pamela Anderson put her foot in it when she blamed Harvey Weinstein's victims. Pamela said "You know what you're getting into if you're going into a hotel room alone. If someone answers the door in a bathrobe, leave." That's right ladies and when it comes to domestic abuse you don't marry them a second time because what kind of an idiot... oh wait.
Village Idiot for 29 Jul 2017, Pamela Anderson
Pamela Practices the Pull Out Method
Pamela Anderson has pulled out of a venture into the restaurant business and in the process her plan to lure the French President to dinner and give asylum to Julian Assange also fell apart. Pamela wrote "Due to circumstances out of my control, I have to remove my name from the collaboration with Christophe Leroy," she wrote. "This was a labor of love for the Animals - to showcase a sexy vegan experience in my favorite village." Time for Plan B, and also an alternative approach to saving Julian.
Village Idiot for 1 Jul 2017, Pamela Anderson
Pamela is Open for Business and Foreign Relations
Pamela is dipping her toes into the world of business and foreign politics by opening a vegan restaurant in France. In an elaborate ploy to get French President Emmanuel Macron to free her love Julian Assange, Pamela wrote "I am opening a new vegan restaurant in France in July, and I would like to extend my invitation to the new President and his First Lady." I'm not sure forcing him to eat vegan food is the best move. As a Frenchie offering to be a mistress is probably the way to go.