©
By Peta (http://www.peta.de/bilder/img/pam_veggie_pin72.jpg) [Public domain], via Wikimedia Commons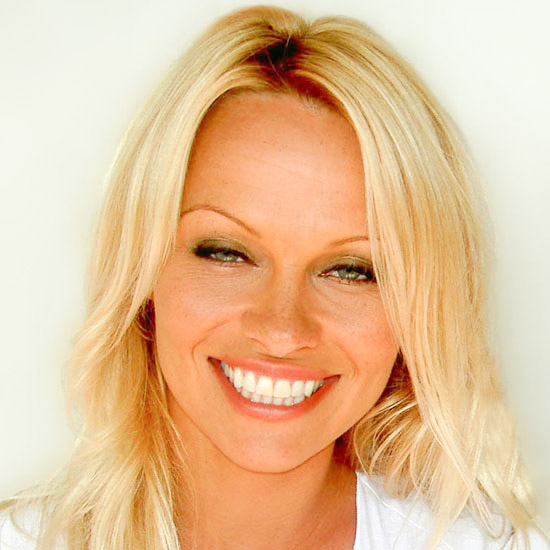 ---
Pamela Anderson Gossip and News - Page 3
Village Idiot for 24 Sep 2011, Pamela Anderson
Forth Times a Charm
After tying the knot 3 times, Pam Anderson says she would like to get married again, probably to her first hubby, Tommy Lee. Pam told New magazine "I would do it again. I want the kids to one day actually see me married and happy, in some kind of traditional (set-up)," Pam went on to say "You never know. Life is short. Sometimes I see us wheeling our wheelchairs around together with no teeth" I'm not sure the market will be too keen on the Pam and Tommy video featuring geriatric fellatio. Pam might need that wheelchair considering Tommy Lee's endowments.
Village Idiot for 26 Feb 2011, Pamela Anderson
Expensive Proposition
Pam is suing her ex-boyfriend, Laurence Hallier, for $1million after he promised to give her a condo in a Las Vegas development. Pam alleges that she was promised $1million cash if the development was delayed. What kind of world do we live in where a man is held accountable for what he says to get into a woman's pants? Sure back in '95 she could have pitched up at the court house and said "What time is it? Tool time!" and she would be $1million richer, now though... back to the plastic surgeon. Maybe the judge will promise her a verdict of her choosing in a future court date, after the whipped cream that is.
Village Idiot for 8 Jan 2011, Pamela Anderson
Crazy Train
Miss Anderson narrowly escaped a crazed fan trying to board the same train after her last performance in Aladdin at the Liverpool Empire. A 21 year old man was supposedly arrested after making his way onto the train when Pam's people notified police. A police spokesman said "A man became verbally abusive to staff when asked to produce a rail ticket. He became violent and officers were forced to use spray." Critics these days don't muck around do they? I guess the telly really does add 10lbs - just not where you hope for it.
Village Idiot for 2 Oct 2010, Pamela Anderson
Working hard for her Mammaries
Pam has told how her two young boys tease her for her past decisions and their future college funds. Pam said "My children are made fun of because I have posed naked," going on to say "When you pose, you are not thinking that one day you will have children who will see it," They could be in Canada shovelling moose crap to pay their way through college. We'll see who's laughing when they get their inheritance, one implant each. Suck it you ungrateful little brats.
Village Idiot for 11 Sep 2010, Pamela Anderson
In bed with Pam Anderson
Nokia is offering a fan the chance to climb into bed with Pam Anderson for a short film called "The Commuter." The "lucky" winner will be filmed as part of the publicity stunt featuring 'Baywatch' babe Pam and 'Gossip Girls' Ed Westwick shot in HD with the new Nokia N8. Whoever wins better hope for some decent zoom capabilities on that Nokia N8, Tommy Lee's previous screen time with Pam might make you want to reconsider. May I suggest a sock tube sock for your film debut.
Village Idiot for 24 Jul 2010, Pamela Anderson
Sexist in the City
Animal lover Anderson was denied a permit by city officials on arrival in Montreal for an event to launch her new Peta advert. City officials claim the new advert, which shows a nearly naked Pam Anderson with butcher diagram marking "breast" & "rump" etc., is sexist. I think I'm going to join Peta purely for the advertising opportunities, what about "Don't eat meat, beat it." (both a reference to masturbation and Tommy Lee, clever, I know)
Village Idiot for 6 Feb 2010, Pamela Anderson
Pam Ready to Jiggle
In a final career swan song Pamela Anderson has signed up to appear in the next season of "Dancing with the Stars". The show has "agreed to all terms for a deal" reports RadarOnline. In all this my thoughts go out to her future dance partner unless of course he can convince the judges that motor boating is an official dance move.
Village Idiot for 5 Dec 2009, Pamela Anderson
Pam gets her hands on Builders Tool
Ex Baywatch babe Pamela has been ordered to appear in small claims court after a builder hired to renovate her Malibu home accused her of refusing to hand back tools and equipment. Pamela, who has been living in a trailer with her kids, is already going to court because she owes money to another construction firm for an extension to her Californian mansion. Good luck getting your tools back, I'm sure we're all familiar with Pam's abilities to hold on to a tool.
Village Idiot for 21 Nov 2009, Pamela Anderson
Birds, bees and class A drugs
Pamela Anderson talked openly in an interview on 'Jeremy Kyle Show Special: Celebrity Scandal with Pamela Anderson' about her past with sex and drugs where she revealed the difficulty explaining her infamous sex tape to her boys. Pamela said "I just said, 'Look, Mummy and Daddy were massively in love, we videotaped everything, everything was videotaped, and you're probably going hear about something at school.'" "Massively" in love, never a wiser word spoken. I wonder if home schooling is an option? "What time is it kids? Tool time!" - never mind.
Village Idiot for 24 Oct 2009, Pamela Anderson
I Dream of Pamela?
Miss Anderson will spend Christmas in England playing the Genie of the lamp in the panto 'Aladdin' at London's New Wimbledon Theatre. Unfortunately for Pamela she will only receive the Equity flat rate of £375, but as we all know she's in it for the love of acting. I bet there's going to be a few guys in the audience rubbing something with Genie in mind. I wonder if this Genie will grant any wishes, and by "wishes" I mean lap dances?