©
By Peta (http://www.peta.de/bilder/img/pam_veggie_pin72.jpg) [Public domain], via Wikimedia Commons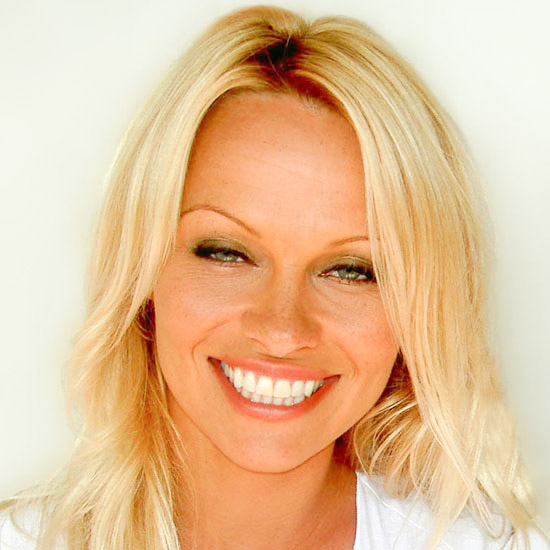 ---
Pamela Anderson Gossip and News - Page 4
Village Idiot for 26 Sep 2009, Pamela Anderson
Pam Strikes the Pose
Baywatch babe Pam had a wardrobe malfunction while on the catwalk in New Zealand modelling part of her A*Muse range which she co-designed with Richie Rich. Miss Anderson attempted to demonstrate how a scarf could be used as a dress only to have the scarf drop to her knee's when her well executed knots failed to hold back her ample assists. There's a reason boy's learn to tie knot's in the boy scouts and girls learn about fashion in Home Ec. Next time you need a hand with the knot's let me know, I'm no boy scout, but I'll give you hand.
Village Idiot for 12 Jul 2008, Pamela Anderson
Cock-a-doo-dilicious
Pamela Anderson, who just received $500,000.00 for a 3 day stint on Big Brother Australia, hand delivered a letter to KFC Australia protesting their unethical treatment of chickens. Sadly Miss Anderson failed to realize that Big Brother Australia is sponsored by KFC. So that's what they put in their special blend of herbs and spices, a sprinkling of Doh! I wonder if Pammy will do the ethical thing and give back the cash?
Village Idiot for 21 Jun 2008, Pamela Anderson
Lights, Camera, Action!
Tommy Lee has confirmed that he's reconciled with Pamela saying the family is living together again. Tommy Lee told Rolling Stone magazine "Pamela and the kids have moved in with me. It's awesome, man. It's definitely working. You can tell on the kids' faces - they're happy when we're together. We've only given it a try 800 times - 801, here we go." Video camera... check, spare batteries... check. Right, let's generate some child support.
Village Idiot for 17 May 2008, Pamela Anderson
A Hard Sale
Always keen to help her favourite charity PETA, Pammie had a garage sale dumping stuff faster than her ex-hubbies. Amongst the items on sale were 5,000 square feet of vintage French country furniture, fine porcelain, elaborate chandeliers, and for those of us not owning a purse, memorabilia from her Baywatch days. I wonder if she had a home movie section?
Village Idiot for 19 Jan 2008, Pamela Anderson
Knocked up?
Reports have it that Pamela Anderson is pregnant with, soon to be ex-husband, Rick Salomon's child. Pamela, who already has 2 children with first hubby Tommy Lee, called it quits on her third marriage after just 72 days of together and is in the process of divorcing Rick. Anyway, I would have thought Rick's chance of reproducing after being with Paris Hilton were pretty slim.
Village Idiot for 5 Jan 2008, Pamela Anderson
Battle of the Boobs
PETA supporter and Baywatch Babe, Pamela Anderson, has hit out against Jessica Simpson's T-shirt which read "Real girls eat meat." calling Jessica a "Bitch" and a "Whore". Pamela said on an Australian radio show "I think she is a bitch and whore. Actually, I don't know if she was talking about food or men." If there ever was a cat fight to be witnessed this is it, bring on the mud pool.
Village Idiot for 20 Oct 2007, Pamela Anderson
Gambling Addict
Pamela marries a winner. After tying the knot a couple weeks ago in Las Vegas, Pamela and her new hubby, Rick Salomon who she has nick named "scum", got into their first marital fight after Rick gambled thousands of dollars playing poker with Sir Richard Branson. Rick reportedly tried to leave a couple times by going all in but would keep winning and so kept playing, Pamela had to walk over to him in the middle of the game a drag him off to the VIP area where they started arguing. So much for marital bliss. Maybe she was worried she would have to pay off Rick's debt the only way she knows how...
Village Idiot for 22 Sep 2007, Pamela Anderson
Make Love, Not War
After starting a fight between her ex-hubbies at the MTV VMA's, Pamela decided to return world order by paying off a poker debt with a night of nookie. Baywatch babe Pamela agreed to an indecent proposal by a mystery poker player after she lost £125,000 playing poker in Las Vegas. Pamela said "He said if I made out with him that would clear the bet. I paid off a poker debt with sexual favours." If she wasn't so well endowed she could have kept her cards closer to her chest, then again, it would also be harder to pay off her debt.
Village Idiot for 30 Jun 2007, Pamela Anderson
Spreading the Love
Pamela honour's her heritage, makes dreams come true. While on a tour of Finland Pamela announced that she plans to open a chain of lap dancing clubs called "LapLand" in honour of her Finnish heritage. Personally I don't see the connection but I'm not complaining, and you won't either if you know what's good for you.
Village Idiot for 14 Apr 2007, Pamela Anderson
Not Welcome
Pamela turned away from Hooters? Not willing to take on the political arena, Hooters has declined Miss Anderson's request to have a book launch for PETA boss Dan Mathews at their New York chain. Dan said "Hosting the book party would have showed that Hooters is rounded in more ways than one." Wow! Turning Pamela Anderson away makes as much business sense as stabbing every customer that walks through the door, I wonder if they know about her tendency to get naked at these PETA events?