©
By Paul Bird Uploaded by MyCanon (Scarlett Johansson) [CC BY 2.0 (http://creativecommons.org/licenses/by/2.0)], via Wikimedia Commons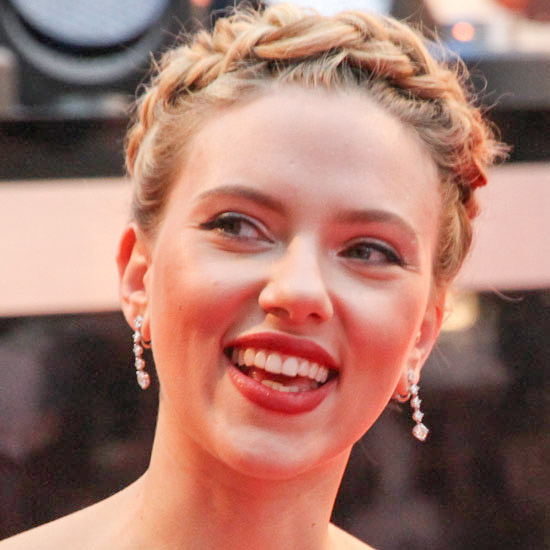 ---
Scarlett Johansson Gossip and News - Page 2
Village Idiot for 23 Jun 2012, Scarlett Johansson
Scarlett Who?
Tired of fame, Miss Johansson told an Italian magazine she would rather have anonymity as an actress than be "Sexiest Women". Scarlett told Grazia Italia magazine "I also think there are so many wonderful women out there, and they aren't even actresses! I don't like being labelled as 'the sexiest woman alive'. As an actress I prefer to maintain the anonymity." I'm sorry, I wasn't paying attention, something about boobs, right? You said Scarlett Johansson whose entire career pretty much revolves because of and around her chest. Alright men, you heard the lady, no more eye contact. Give the lady her privacy, stare at something else when talking to her.
Village Idiot for 28 Apr 2012, Scarlett Johansson
Prepare for another International Chicken Incident
The blondes are taking on buffalo wings again, this time in the form of Scarlett Johansson giving up on her strict diet to fit in her 'Black Widow' suit. Scarlett told Fox411 "Oh my good [I am obsessed] with buffalo chicken wings, I am addicted to them. You will have to roll me down the red carpet next time you see me." I guess the question is - are you a wing or a breast man?
Village Idiot for 5 Nov 2011, Scarlett Johansson
Hard Case to Crack
After launching an FBI investigation into hacked nude photo's Miss Johansson has confessed to Vanity Fair magazine that the photo's are of her but were sent to now ex-hubby, Ryan Reynolds. "Those are old, from three years ago," Scarlett told the magazine "They were sent to my husband," Scarlett went on to say "There's nothing wrong with that, It's not like I was shooting a porno - although there's nothing wrong with that, either." I feel sorry for those poor FBI agents having to "investigate" her case, day in and day out studying every angle, zoom in, zoom out. Damn it Mulder, put it away.
Village Idiot for 6 Aug 2011, Scarlett Johansson
Corporal Punishment for Miss Johansson
Scarlett Johansson dashed the dreams of Sgt. Dustin L. Williams by declining his invitation to the Marine Corps Ball. Scarlett responded to the invitation saying "I feel incredibly honored to have been invited to the Marine Corps Ball... unfortunately due to prior commitments I will not be able to attend the Ball with you this year" I say we water-board her, better yet, wet T-shirt her instead. Get on your knee's and give me 20... let's not go there.
Village Idiot for 18 Dec 2010, Scarlett Johansson
Boobs on the Loose
Scarlett Johansson has split from hubby of 2 years, Ryan Reynolds. Scarlett is believed to have pulled the plug after the couple grew apart due to their busy schedules. Sources say "Ryan has been reaching out to an ex the past few months... He is seeking comfort, but not in a romantic or sexual way." Looks like the title of "Sexiest Man Alive" doesn't do you any favours now-a-days does it Ryan? Don't worry Scarlett I'm sure you'll find a free shoulder to cry on, followed by a nice meal, some soft music...
Village Idiot for 15 Mar 2008, Scarlett Johansson
Buy a Babe
If you're into cleavage overflow, and lets face it... who's not? then you won't want to miss the charity auction on eBay to win a date with Miss Big-Boobs Johansson herself. The winning bid will receive two tickets to the red carpet premiere of her movie "He's just not that into you", like you'll be able to focus on anything but the twins. That's weird, why would you want two ticket's? unless she's taking up French lesson's... ménage trois perhaps? Anyway, what could be safer than auctioning off a date with some random folk on the internet? UPDATE: Auctions over, sold to a guy from the UK for $40,100, hope you enjoy the view.
Village Idiot for 3 Nov 2007, Scarlett Johansson
Waste Not, Want Not
After going to the dentist to have her wisdom teeth removed, Miss Johansson had one of the teeth dipped in gold and made into a necklace for boyfriend Ryan Reynold's birthday present. A source said "She'd just had her wisdom teeth removed, so she had one dipped in gold and strung on a necklace for him." The only person you should be giving extra teeth to is your cousin from the South. Just wait until she has that mole removed from her thigh, what a Valentines Day that will be.
Village Idiot for 8 Sep 2007, Scarlett Johansson
Bringing out the Big Guns
Scarlett Johansson plans to do her bit for America's soldier's by being her buxom bosomy self. Miss Johansson has signed up to visit Iraq to provide a morale boost and help pitch a tent or two. Scarlett said "I don't know if I will sing for them. I'll probably just take to the stage and ooze sex appeal and hang around. I'm so lucky that I have an opportunity to make some sort of difference."