©
By Peter Schäfermeier of Universal Photo (Own work) [CC BY-SA 2.5 (http://creativecommons.org/licenses/by-sa/2.5)], via Wikimedia Commons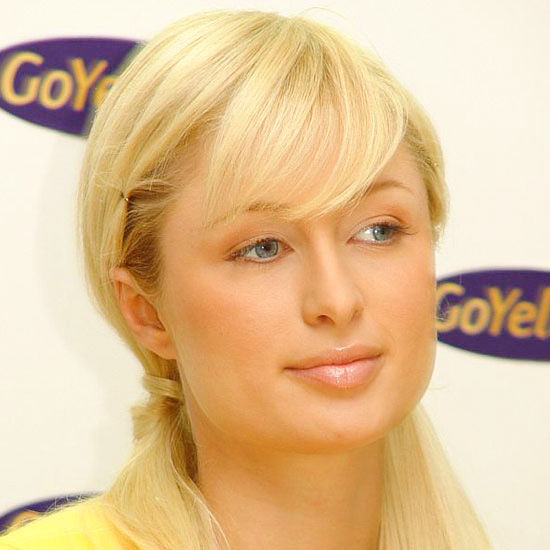 ---
Paris Hilton Gossip and News - Page 3
Village Idiot for 4 Aug 2012, Paris Hilton
Guess who found "Love" in a Hopeless place?
Desperate for love and attention pseudo celeb Paris has been posting pic's of herself and Chris Brown together in the South of France. Stand back Cupid and let the
fists
fireworks fly. Are you telling me those two are together? What happens when an incurable disease meets an unrestrained temper? God's gift to humanity, that's what. The mutual annihilation of a walking STD and a women beater all in sunny Southern France, it's like a Hallmark movie but directed by Quentin Tarantino.
Village Idiot for 7 Apr 2012, Paris Hilton
Paris Forgotten
During an interview with Sunrise pseudo celeb Paris was asked about her fleeting fame which she didn't take kindly too. When asked ""about when you're not famous anymore, what are you going to do?" Paris responded "just wants to be able to have children and have a normal life with my kids" Later Paris' publicist told the show she was not happy being reminded of the obvious and threatened to ban the show from the red carpet at the club opening that night. She's disappearing from the spot light and her publicist wants to ban media from her upcoming event's? Ix nay on the fleeting fame-ay. How dare you imply getting screwed on camera and arrested for drunk driving was all for nothing. How do you think Meryl Streep got to where she is now... sorry? Talent and hard work you say?
Village Idiot for 3 Mar 2012, Paris Hilton
Yes, she's Still Alive
Everyone's favourite STD source is apparently still around, not that anyone gives a shit. If your not going to have a fake wedding then don't bother. True to her conceited ways, the now forgotten porn star is throwing the 'ol 2 week long birthday with her birthday starting 17 February. She's 31! You don't get "My Super Sweet 31". That's just depressing when the antics, of what should be a mature women, are pretty much level with that of a spoiled 16 year old rich kid. Then again that's all she is, just with more wrinkles. Happy forgotten/irrelevant birthday.
Village Idiot for 26 Nov 2011, Paris Hilton
Paris' Posh Pooch
While in paradise isle Bali, pseudo celeb ordered a $50 steak for a stray dog and naturally made the best of a PR situation. Parisite tweeted "Saw a starving stray on the beach of the restaurant. Made me so sad. So we ordered him a filet mignon, he loved it! Don't get me wrong, good for the dog, but does everything have to be a publicity stunt? Stop the presses, "Hey everybody, saw a piece of paper. Made me so sad. Picked it up and threw it in the dustbin.", wait, where's my extra 15 minutes? Damn Kardashians.
Village Idiot for 17 Sep 2011, Paris Hilton
Paris' celebritydom, take 2
With her latest TV show being snuffed out, pseudo celeb Paris is trying her hand at becoming a House DJ. Parisite is supposedly shadowing various DJ's, including Afrojack and Deadmau5, in hopes of learning a thing or two and even plans to appear on stage with Deadmau5. After hearing of this Deadmau5 quickly posted on Facebook "HEY WORLD... im not teaching Paris Hilton how to DJ. fuck already!" Well that cleared up that rumour, her career ends before it even begins. So that's porn, TV, movies and music all out the window. Next up "Paris the (insert spotlight hogging, talent optional career here)"
Village Idiot for 23 Jul 2011, Paris Hilton
Over the Hil-ton
Pseudo celeb Paris walked out of an ABC interview with Dan Harris when reality struck and she was asked about her so called "career". Dan Harris asked "Do you ever worry about your moment being passed?" at which point Parisite stormed off camera but could be heard, still wearing her mic, complaining "Well, I don't want all this being used," It's back to night vision romps if she wants to keep her pseudo celebrity status. I hear a certain golf player is in need of PR and has a thing for slutty blondes, too bad Porn star Paris isn't into black guys.
Village Idiot for 1 Jul 2011, Paris Hilton
Parisites Lair
A knife wielding "burglar" has received 2 years prison sentence for stepping into Parisites lair. Back in the day he would have songs written about his bravery. At the time pseudo celeb Paris said "It was like something out of a movie. Cy is definitely my hero." Now even Cy has left, just like every epic movie hero, with an infection in his nether regions.
Village Idiot for 25 Jun 2011, Paris Hilton
Fleeting Fame/Flame
Pseudo celeb Paris has said good bye to another infected soul with Cy Waits genitals heading off for incineration. Cy broke up with the itchy one claiming he found "it difficult to live his life with her in the spotlight". It was nice of him to use her so called "fame" as an excuse because if she hears about the price of penicillin again she is going to flip out. Come on guys, intravenous penicillin is not THAT expensive and you get used to the itching after awhile.
Village Idiot for 11 Jun 2011, Paris Hilton
Parisite Sucks
Pseudo celeb Paris was non to pleased being called out by Barbara Walters on 'The View', asked about her community service, charity work and her desire to help other female prisoners Walters asked, "Why not present that side of yourself, if indeed it exists?" After the show Porn star Paris and her father had a go at a producer when it was revealed her new show was being overtaken by "Teen Moms and Snooki." with a senior marketing manager saying "This could be the last nail in the coffin," Could this really be the end of the itchy one? No more penicillin just to write these awful stories? Don't toy with me, I'm too fragile to have a dream like this squashed.
Village Idiot for 26 Mar 2011, Paris Hilton
Little Rich Racist?
According to a new book by Neil Strauss, Everyone Loves You When You're Dead, Pseudo celeb Paris not only got implants at 14 and was later told to have them removed, she also wanted to pose for Playboy and has a dislike of Vin Diesel because he's black. Paris said "We were making out, but then we went somewhere where it was bright and I saw that he was black and made an excuse and left. I can't stand black guys. I would never touch one. It's gross." Wow such aspirations, and look at her now. The boobs came and went, she made it into porn, and she meets the typical little rich white racist stereotype. What's next? Well with her talents, or lack thereof, by 35 porn star Paris will end up with 34F implants getting gangbanged by 8 black guys for the sequel - 8 knights in Paris.